Adolfo Carlos P. Umali
Adolfo Carlos "Caloy" P. Umali, BS IE 1987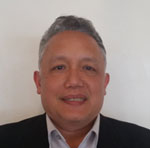 Caloy has more than two decades of solid Supply Chain experience.
Throughout those years, he has covered a wide array of industries namely: Beverage, Petroleum, Pharmaceutical, Food and Telecommunications. And his work experience evolved in the different areas of Warehousing, Distribution, Inventory Management, Logistics Outsourcing,  Customer Service – After Market, Transportation / Fleet Management, Tanker Chartering;  working with such companies as Globe Telecom, Kraft Foods, San Miguel Corporation, Caltex Philippines and Wyeth Philippines.
He is currently the Head of Globe Telecom's Fleet Management, Inventory Planning & Control and Warehousing Teams. Outside of work, Caloy is an active member of the Philippine Jaycees, Grand Lodge of Free and Accepted Masons of the Philippines and the Tau Alpha Foundation Inc.