Michael Allan E. Sicat
Michael Allan  "Mike" E. Sicat, III, BS CE 1994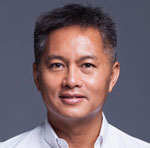 Mike started M.E. Sicat Construction, a leading and AAA certified contractor offering engineering solutions across a wide spectrum of disciplines which serves both government and private institutions.
On the academic side,  he shares his knowledge in the field of both engineering and entrepreneurship as a lecturer, coach and mentor in his alma matter and the various organisations  with which he is affiliated.
Mike received his undergraduate degree in Civil Engineering from the University of the Philippines and topped the Board Examinations in 1993.  He then went to Stanford University where he obtained his Master's degree in Construction Management.