UP ChEAF
Lasting Connections: The Chemical Engineering Building Fellowship
The Department of Chemical Engineering's September 27, 2014 fanfare was no less than a spirited convergence of timelines as its alumni joined in the Chemical Engineering Building Fellowship. Themed Chelebrate: Building Lasting Connections, the gathering was for the purpose of acknowledging the donors who made the furnishing of the new ChE building's lecture rooms, computer lab and conference room possible. Before the guests arrived, the faculty and staff had the Building Blessing with Fr. Jebamali Suresh from the Parish of the Holy Sacrifice.
The donors' fellowship was organized by the ChE Department, in partnership with the UP Chemical Engineering Alumni Foundation (UP ChEAF), Chemical Engineering Representatives (ChEReps), and student volunteers.
It was a homecoming of sorts — alumni reminiscing about their days in the university and catching up with each other. The Department's faculty was on hand to graciously receive the guests. The event was also graced by Dean Aura Matias, former DOST Secretary Estrella Alabastro, BS ChE '61, and UP KEM's first president, Mr. Florentino Silayan.
Guests of the fellowship were from different organizations such as the UP Chemical Engineering Alumni Foundation (UP ChEAF), Engineering Fraulein, UP KEM Global, UP Research and Development Foundation, Inc. (UP ERDFI), as well as from the department-based student organizations, UP Academic League of Chemical Engineering Students (UP ALCHEMES) and UP Chemical Engineering Society, Inc. (UP KEM). The donations from the various alumni groups have made the transfer of the Department to the new building possible. Classes have been held in these furnished rooms since the start of the first semester of the academic year 2014-2015.
The two large lecture rooms on the first floor were endowed by the UP ChEAF, in memory of Dr. Rufino C. Lirag, a former faculty member and chairman of the Department. Dr. Lirag's widow, Mrs. Priscilla Lirag, came to view the room. Three small lecture rooms were endowed by the UP KEM Global, the UP Engg Fraulein Alumni, and the UP ALCHEMES Alumni.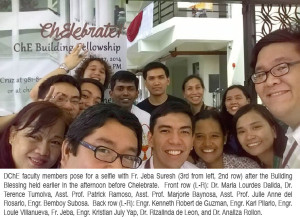 UP ChEAF President Engr. Fernando Lalu Cal and UP ERDFI President Tito Aliga, together with Madam Annette Alcasabas of the Engineering Fraulein, Engr. Eugene of UP KEM and Engr. Jose Graciano Bartolome of UP ALCHEMES, shared their hopes for the progress of the Department and pledged their continuous support for further improvement of the Department. Ceremonial checks were turned over by the UP KEM to Department Chair Dr. Rizalinda de Leon for one of the Computer Laboratories and the Conference Room of the building. Guests and sponsors were toured around the facility to show them the improvements that their respective donations have made possible. A dinner followed the tour where student members of UP ALCHEMES and
UP KEM entertained the guests with their musical and dance talents.
The Department Chairman, Dr. Rizalinda de Leon, closed the fellowship by expressing the Department's gratitude for the help of the sponsors without whom, moving into the new building would have been impossible.