Dante M. Abando
Dante M. Abando, BSCE 1986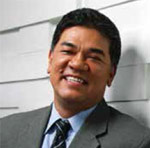 Dan has more than 25 years of construction management and real estate development experience.
He is currently a Vice President and Management Committee member of Ayala Land, Inc.(ALI) and concurrently President and CEO of Makati Development Corporation (MDC). He was responsible for MDC's transformaton by re-establishing its vision and objectives, building capability to handle more than 400 projects in design, procurement and construction, as well as spinning off subsidiaries to enable efficiencies in specialized construction services.
Among the positions he holds are: Director: MDC, Avida Land Corp, Alveo Land Corp., Serendra, Inc., and Anvaya Golf Club, Inc; Chairman: MDC Buildplus, Inc, MDC Concete, Inc and MDC Equipment Solutions, Inc.; and Trustee and First Vice President of the Philippine Constructors Association (PCA). Prior to MDC, Dan was the President of Alveo Land Corp.
Dan holds a Master's degree in Business Administration from the University of the Philippines and a recipient of the UPAE Professional Degree Award in Civil Engineering in 2014.