Dante M. Briones
Dante M. Briones, BSIE 1982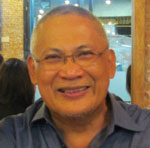 An advocate of the environment and clean energy, an entrepreneur, a teacher and a leader, Dante is the Founder, Chairman & CEO of SasonbiSolar, a solar PV systems integrator. He is a Board Member of Oronax Development Corporation and Micro-D International, Inc. and is a Fellow of the Institute of Corporate Directors.
He was an IT industry veteran, having served as President & CEO of ABM Global Solutions as well as CIO of leading multinational and local companies such as Coca Cola Bottlers Phils. and JG Summit Holdings, Inc. He was a member of the faculty of the UP College of Engineering.
Dante is a member of the Management Association of the Philippines, the UP IE Alumni Association, and the Philippine Institute of Industrial Engineers. He was President of the Philippine Solar Power Alliance, the country's solar industry association.
Dante holds a Master's degree in in Mathematics from Northern Illinois University. He was recipient of the UPAE Distinguished Alumnus Award for Industrial Engineering.