The UP Industrial Engineering Alumni Association (UPIEAA)
Recently held its homecoming last October 4, 2014 at Melchor Hall, U.P. College of Engineering Lobby. With the theme "Living the Insatiable Nonconforming Daring IE (INDIE) Spirit", the homecoming was attended by over 70 diehard UP IE alumni, mostly from the 80s batches with a sprinkling of alumni for the 70s and 90s. The alumni dinner event was a star-studded affair, hosted by Abby Asistio, singer, songwriter, and a regular TV & events host with equally famous events host and motivational speaker Jordan Escusa. But the real "stars" were the 70 IE alumni who now or previously occupy positions in marketing, personnel, information systems, operations planning, logistics, productivity improvement, and corporate planning, working for companies engaged in manufacturing, BPO, telecom, airlines, banking, insurance, technology, shipping & distribution, food services, retail, oil & gas, as well as in government service. In addition, a fair share of the UPIE alumni who came had founded start-ups and set up new businesses.
For 2014, the UPIEAA Distinguished Alumni Award went to Justiniano "Jody" Gadia, BSIE 1982, for his outstanding contribution in the Private Sector. Under Jody's leadership as General Manager, Robinsons Supermarket Corporation has expanded into a multi-billion peso company operating close to 100 branches, with more stores scheduled to open. He was also part of the core group responsible for the IPO offering of the Robinsons Retail Group, successfully generating interest that allowed expansion for the company.
In 2013, four UP IE alumni were given Distinguished Alumni awards by the UP Alumni Engineers. The awardees included – Luis "Chito" Calingo (UPAE Most Distinguished Alumnus), Elise del Rosario (IE Professional Degree Award), Joseph Phi (Global Achievement for Logistics), and Jeremias Paul (National Achievement for Government Service).
Two years ago, the UPIEAA raised sizeable funds through the innovative "Pillars of IE" Program, conceived to help the UPDIEOR with its facilities improvement programs, notably with the faculty-student area of the new IE Department building. The half year project, during the first half 2013, generated nearly P400,000 from 60 donors. In return for their donations of at least P6,000, the donors were awarded: lifetime membership (if not yet a lifetime member), a personalized plaque, and free entrance to the 2013 homecoming.
For the next 12 months, the new board has decided to focus on significantly enhancing the association's web portal, dramatically increasing the number of alumni with current contact details on file, subsidizing participation in international student competitions, and assisting the IE&OR department in equipping the various classrooms and labs in the new IE-ME building.
Interestingly, despite its 45-year history and despite repeated discussions about forming an IE-only alumni association as early as 1995, the UPIEAA was formally incorporated only in 2006. The first association president was Vito Aberin, followed by Dindo Cortez. 2012-2013 saw Pete Maniego take the helm, followed by Elise del Rosario in 2013-2014. In the recent board meeting last October 21, Jaime "Bing" del Rosario was elected as the new UPIEAA president. Other board members include – Eugene Gonzales (also treasurer), Bess Yap, Drake Lopez, Marton Banson, Kevin Hartigan-Go, Ting Joson, Liza Ting, Benjie Mirasol, Kenny Bulahan, and Jody Gadia. Ex-officio members include outgoing president Elise del Rosario and UPIE department chair Lowell Lorenzo (also secretary). In the eight-year history of UPIEAA, a handful of IE alumni had remained committed by volunteering their time and effort from almost the very beginning – Eugene Gonzales, Ting Joson, Dante Briones, to name a few.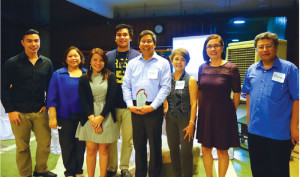 Alumni Award
UP College of Engineering Dean Aura Matias, herself an IE and a Top 100 Alumni Engineers of the First Century awardee, gives the 2014 Distinguished IE Alumni award to Jody Gadia, assisted by UPIEAA President Elise del Rosario and Awards Committee head Bernie Abis, last October 4. Jody was accompanied by his family as he accepted the award.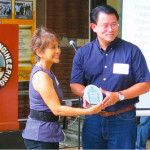 Pillars
The UPIEAA's Pillars of IE fund-raising program was a huge success. Above, Pillars Committee head Elise del Rosario giving the honorary plaque to one of the 60-plus "pillars," Shell's Jeng Pascual.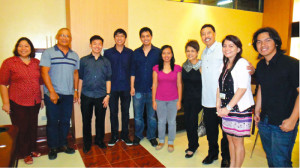 Jakarta IE tilt
The four members of the winning team in the 2012 Industrial Engineering Competition held in Bandung, Indonesia and their teacher coach, C3 Ariola, pose with Dean Aura Matias, then IE&OR department chair Iris Martinez, and competition subsidy donors, Bing & Elise del Rosario and UPIEAA, as represented by Dante Briones.