Homecoming 2017: Invitation to Ruby Jubilarians
A Letter to UPAE Ruby Jubilarians from Elise del Rosario.
Dear UPAE Rubilarian,
It's been 40 years since we said goodbye to our beloved Melchor Hall! Don't you think it is time to come back? The Homecoming will be on November 18 from 6 to 11pm at the Ang Bahay ng Alumni.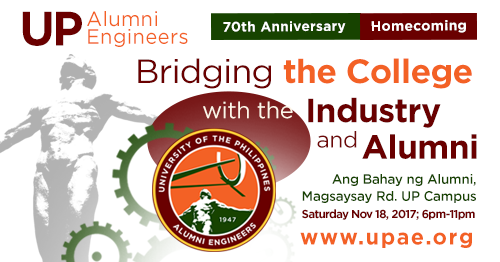 Batch 77 COE graduates are cordially invited to celebrate together their 40th year of graduation from UP! An informal group composed of graduates from IE, EE, ME, Met, ChE and CE has put together something for the homecoming program. Those who did not have time to join the preparation are welcome to join the group in its final bow. Batch 77- please wear black with red accent! Let's make our presence felt on this our 40th year!
Hoping to see you,
Elise del Rosario
BSIE
elise@JGdelRosario.com