Homecoming 2017: Invitation to Ruby Jubilarians
A Letter to UPAE Ruby Jubilarians from Elise del Rosario.
Dear UPAE Rubilarian,
It's been 40 years since we said goodbye to our beloved Melchor Hall! Don't you think it is time to come back? The Homecoming will be on November 18 from 6 to 11pm at the Ang Bahay ng Alumni.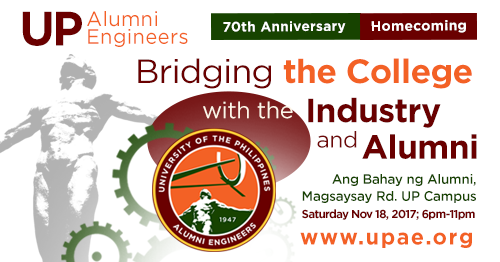 During the UPAA (UP Alumni Association) homecoming last August 19, the Rubilarians presented a number consisting of adaptations of the following musical numbers: Manila, Anak, Kay Ganda ng Ating Musika, Isang Mundo, Isang Awit. I would like to invite you to take part in this same presentation, only for Engineering. Practices will be every Saturday of October from 10am to 12 noon at the UPAE office at the NEC building next to Melchor Hall. The number is all set and all we have to do is learn the moves. We can also memorize the lyrics, but the songs are pre-recorded. We will be coached by the famous Emlyn Santos. Attire is all black with red scarf or stole (for men).
If you think renewing friendships made 45 years ago will be worth your time, this is the perfect opportunity! Kindly let me know if you are game for this!
Hoping to see you,
Elise del Rosario
BSIE
elise@JGdelRosario.com