UP Industrial Engineer is incoming PMAP President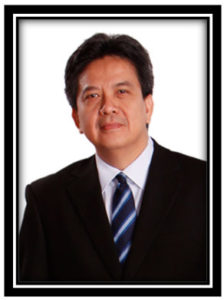 Ramon Segismundo, UPIE batch 79, was elected as the 2017 National President of the People Management Association of the Philippines (PMAP).
PMAP has twenty four (24) chapters throughout the Philippines and has about 1,800 member companies and individual management executives engaged or interested in Human Resource Management (HRM) and Industrial Relations (IR) work. As a professional association, PMAP helps institutions mold an enlightened, competent, socially responsible, and influential sector of people managers who can effectively participate in nation-building, noting that PMAP's nationwide reach makes it a potent force for this. PMAP also conducts numerous career development forums and training programs.
Mon is Senior Vice President and Head of Human Resources and Corporate Services of Meralco. He has over 30 years of experience as Asia Pacific/International human resources executive and business consultant in Singapore, United Kingdom, United States and the Philippines for major global companies such as GlaxoSmithKline, Arthur Andersen/Sycip Gorres Velayo & Co., Wyeth Pharmaceuticals, SmithKline Beecham and Sterling Winthrop. Since returning to his home country in 2010, he has helped Meralco achieve PMAP Employer of the Year (2012-2013), Asia CEO Top Employer (2012), Singapore-based Asian Human Capital Awards (2013) honors and the recently conferred People Program of the Year Award by PMAP (2015).
Mon was also awarded as the 2014 People Manager of the Year by the People Management Association of the Philippines (PMAP), the UP Alumni Engineers Professional Degree Award for Industrial Engineering for 2011, and the Distinguished Alumnus Award for 2015 by the U.P. Virata School of Business.
Moncompleted his Master in Business Administration, both at the University of the Philippines and is currently taking up his PhD in Business (General Management) at the Singapore Management University (SMU).
He is also President of the Meralco Power Academy and Chairman of Customer Frontline Solutions, Inc. He is a Board Trustee of One Meralco Foundation, Inc., Meralco Pension Fund, Loyola Meralco Sparks FC and the UP Engineering Research and Development Foundation, Inc. Mon served as the 2013-2014 Chairman of the Board of the Philippine Basketball Association and was a PBA Governor representing Meralco Bolts from 2010-2014.